Q: How do I download Zello and participate in the channel?
A:
1- Download Zello from the Google Play Store. The app is referred to as "Zello PTT Walkie Talkie".
2- After registration, click on the right "channels" tab. It contains an image of three heads. It will open up the option the "add channels" tab. It comes in the form of three heads with a plus sign as seen in the image.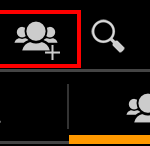 3- Click on the "find a channel" option and search for "twelvershia.net" as seen below.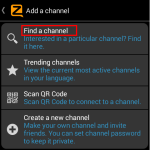 Q: My internet service provider has blocked in my country. What do I do?
A: Download "Hide my IP" from the app store in order to access the program.
Q: I am unable to find the channel. Now what?
A: This has happened only once before. Let us know your username on the forums or in the comments section here and we will send you an invite.
Q: When will the debates/conversations be held?
A: Every Sunday at 7pm GMT. However, the room is open and has members during the rest of the week.
Q: Can anyone participate?
A: Anyone that is interested in Sunni/Shia dialogue may participate.