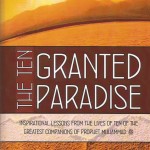 Unlike any of our other articles, we have chosen to do something completely different with this one. As our readers know, we have dedicated a good deal of time to refute content by Shias. The more important the work, the more time spent, and the greater the effort that has been inputted. Even though Dr. Sayyed Ammar Nakshawani is without a doubt the most well-known Shia lecturer/preacher in the English language, there is not much to be said about his writings. Do refer to our piece on his book "Hujr bin Adi" as an example of his "academic prowess."
As for his "The Ten Granted Paradise", we were expecting to find a stronger book. However, the most academic aspect of this book was easily the introduction by Nebil Husayn, which we believed was worth refuting.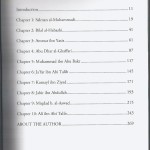 Carrying on, this poorly written book, seems to be catchy at first, since it suggests that it will be discussing the famous ten companions that were promised Paradise. Of course, there was the assumption that they would be criticized since this book is by a Shia author and that Sayyed Ammar would make a case as to why none of them were promised heaven (or nine of them at least). Surprisingly, Sayyed Ammar pulled a fast one with a book on his own personal "ten granted Paradise". Here is a list of those men from the table of contents:
Without going into too much detail as to how weak of a book this is, we should ignore the fact that Sayyed Ammar quotes fake anecdotes about Ali bin Abi Talib winning a Jewish convert through answering a question in multiplications (p. 259-261). Let's also ignore the fact that Sayyed Ammar has no idea how to pronounce "al-Ghifari"(see 4/277 in Al-Ansaab by Al-Sam'aani), but writes it as "al-Ghaffari". We should also turn a blind eye to the lack of referencing in the book.
Instead, we should focus on weakest aspect of the book. The subtitle: Inspirational Lessons from the Ten of the Greatest Companions of Prophet Muhammad.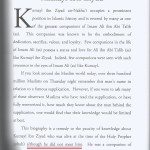 However, when skipping to the biography of Kumayl bin Ziyad, we find that Sayyed Ammar admits that he is not a companion in the first place. Is Sayyed Ammar trolling the Sunni world? Or is this a case of false advertisement in order to push book sales?
I wonder if we will ever know.
Final Verdict: 2/10
(We were generous because the book has a pretty cover.)